Dal 22 al 24 luglio ad Adelaide, città dell'Australia meridionale, si è tenuto Winetech, il più importante congresso tecnico-scientifico del vino per il mercato australiano e neozelandese.
E c'eravamo anche noi.
Sì, con grande soddisfazione abbiamo preso parte alla manifestazione assieme a KauriWine, il nostro nuovo partner per l'Australia e la Nuova Zelanda, che proprio in questa occasione ufficiale ha presentato Smart Analysis al suo mercato.
Allo stand di KauriWine era presente anche Matteo Barozzi, responsabile tecnico-commerciale di DNAPhone, volato dall'altra parte del mondo per dare supporto ai nuovi colleghi guidati da David, Mark e Dean.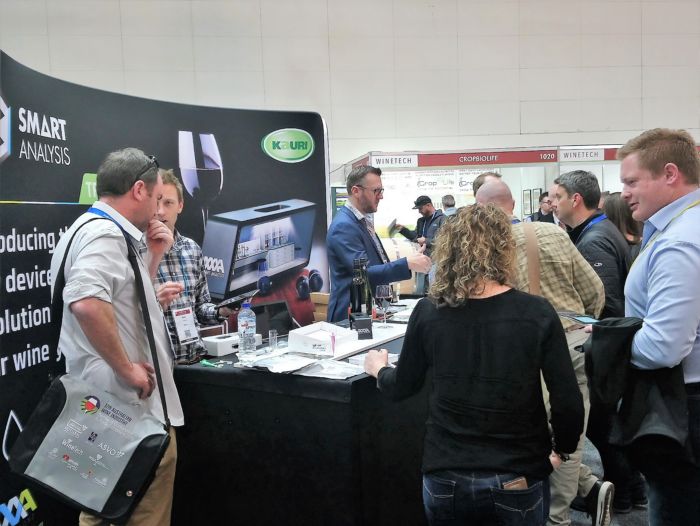 Oltre ad aver lanciato con grande successo la nostra piattaforma durante l'evento, nei giorni successivi il team di Kauri ha organizzato un ciclo di seminari tecnici dedicato a produttori, enologi e responsabili di laboratorio delle più importanti e rinomate cantine neozelandesi per far provare loro Smart Analysis.
La prima tappa è stata presso l'azienda Amisfield Winery, una delle principali cantine della suggestiva regione montuosa dell'Otago, specializzati nella produzione di Pinot Nero e vini bianchi aromatici.
Nei giorni seguenti ci siamo spostati verso la regione del Marlborough, dove siamo stati ospitati dalla pluripremiata cantina Marisco Vineyards.
Qui, nei laboratori dell'azienda, abbiamo accolto tantissimi professionisti interessati a Smart Analysis. Un numero davvero imprevisto che ci ha fatto piacevolmente colpiti e ci ha costretti a dividere il gruppo in due e duplicare la presentazione.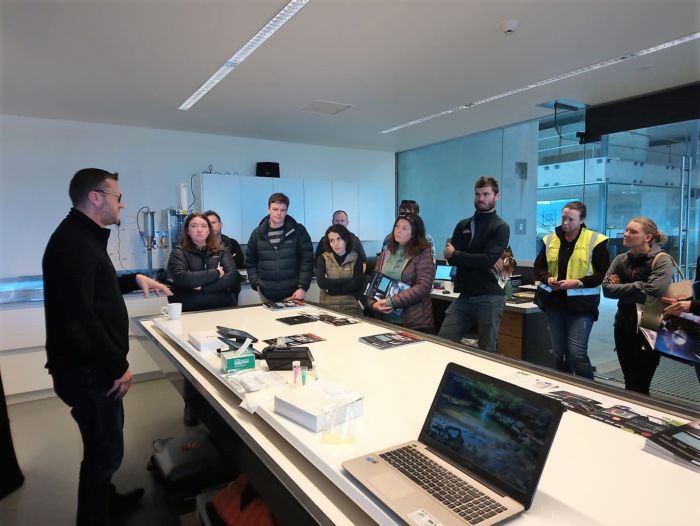 Più a nord abbiamo visitato le tenute di Paritua Vineyard, ai piedi delle colline della Hawke's Bay. Una tappa che ha raccolto molte adesioni e ci ha colpiti per il paesaggio: vigne a perdita d'occhio…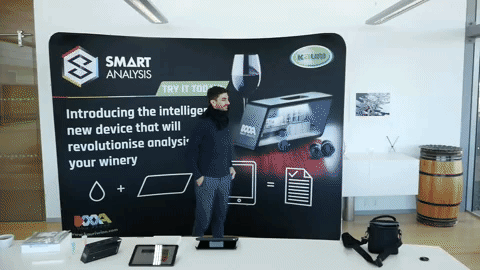 Infine abbiamo raggiunto l'isola di Waiheke, al largo di Auckland. Qui siamo stati ospiti della prima cantina fondata sull'isola: Goldie Estate. Abbiamo avuto modo di confrontarci con i produttori locali e utilizzare insieme Smart Analysis e abbiamo avuto l'occasione di fare una degustazione di vini italiani, ospitati da Heinrich Storm, giovane e intraprendente titolare della cantina.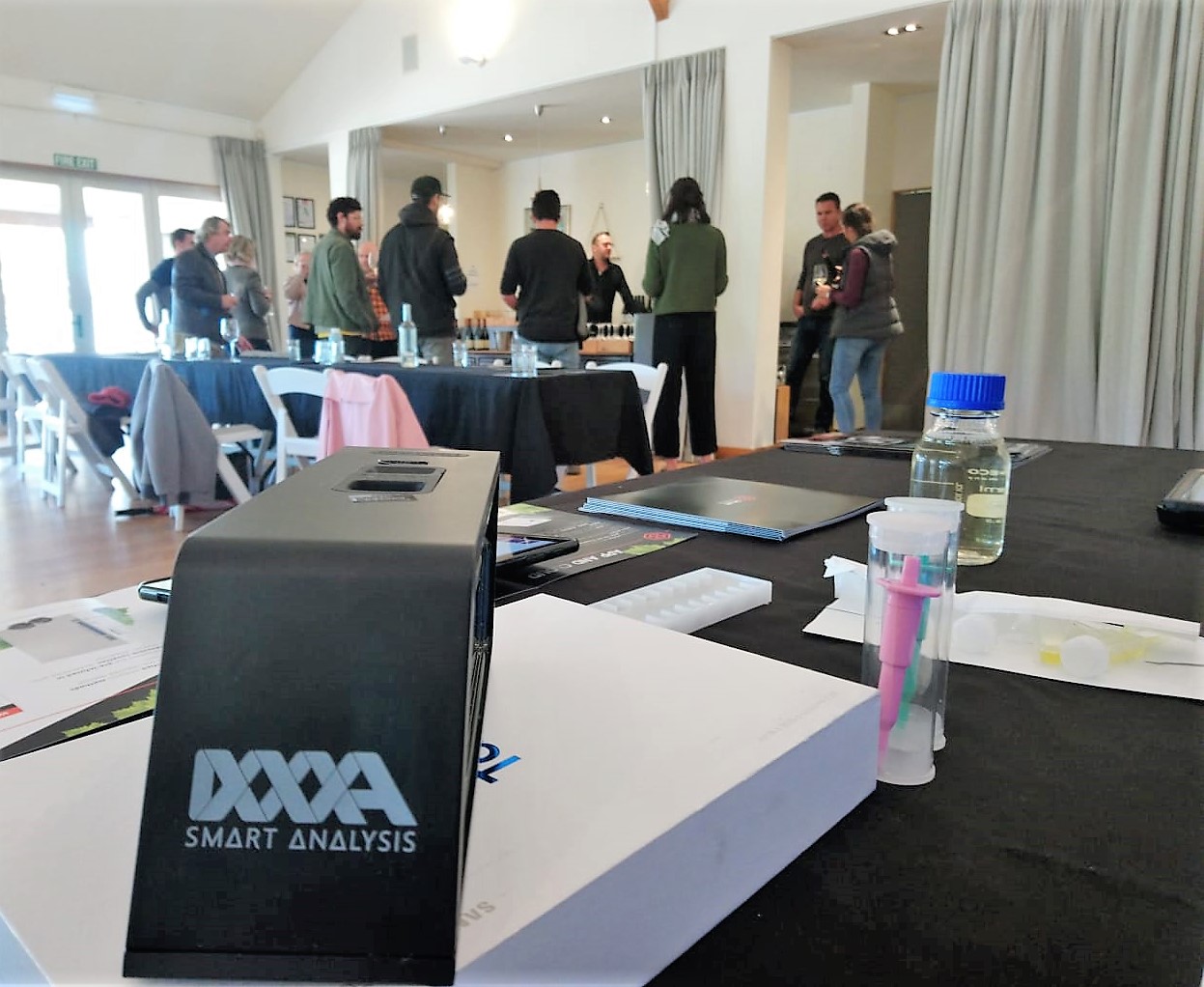 Grazie a due settimane intense di trasferta abbiamo approfondito molti aspetti del mercato vinicolo del continente nuovissimo, parlando con oltre 150 professionisti, incontrati sia durante il tour neozelandese che durante la fiera di Adelaide.
Abbiamo ricevuto un riscontro positivo da parte degli operatori di settore che abbiamo conosciuto, soprattutto ci ha fatto piacere notare che lavorano guardando costantemente alle ultime innovazioni tecnologiche. opinione confermata anche da Mark McGill, direttore tecnico di Kauriwine: "Australia and New Zealand are new world producers and we typically innovate quicker than the rest of the world (when it comes to wine) so I think Smart Analysis will have good uptake. The feedback that we received from the wineries that have already used Smart Analysis is great, winemakers like the small footprint and one device that does everything, and the fact that Smart Analysis can pretty much eliminate the need for laboratory glassware and apparatus."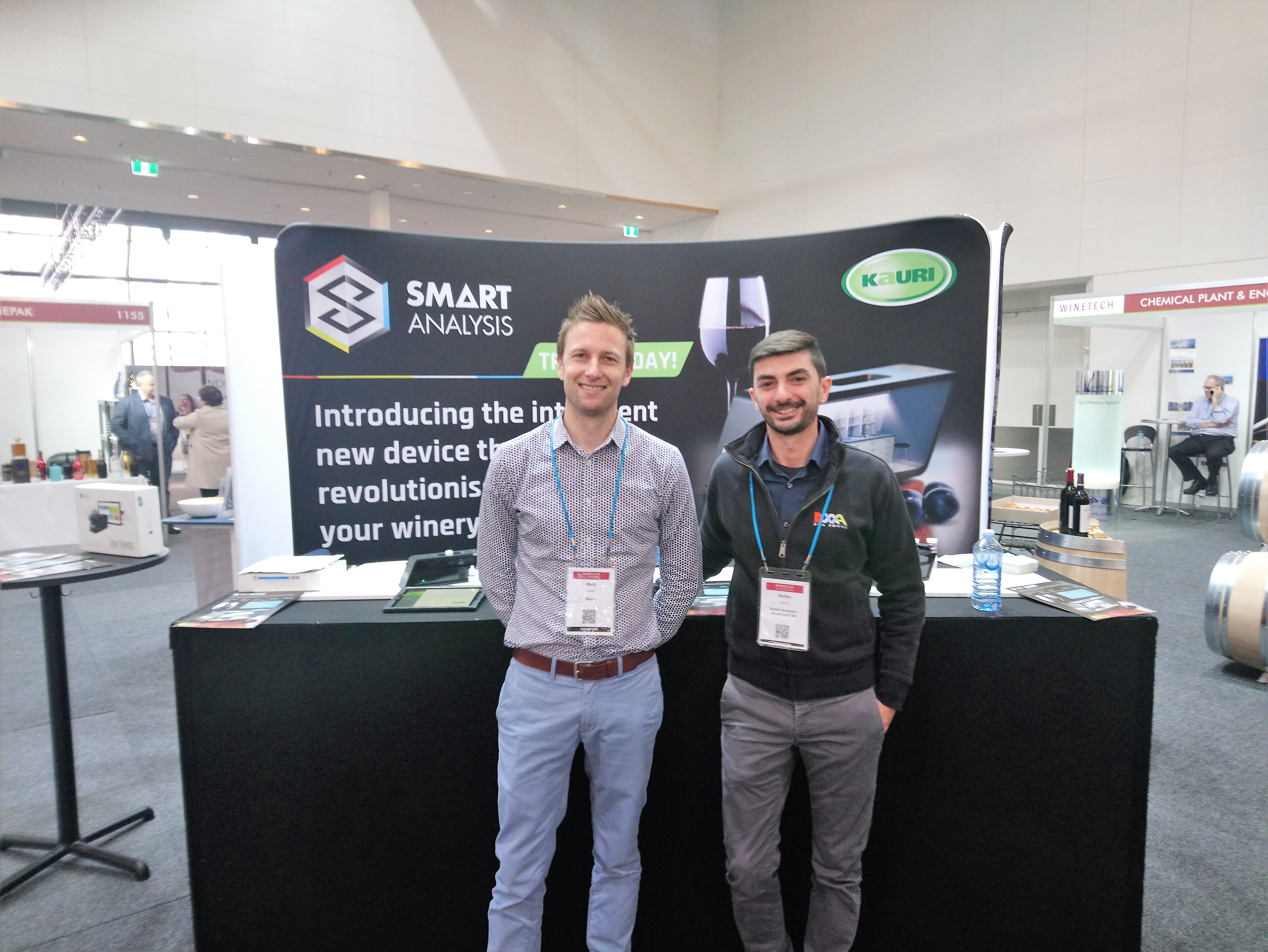 (Traduzione: "L'Australia e la Nuova Zelanda sono nuovi produttori mondiali e in genere innoviamo più rapidamente del resto del mondo -quando si tratta di vino-, quindi Smart Analysis avrà una buona diffusione. Il feedback che abbiamo ricevuto dalle cantine che hanno già utilizzato Smart Analysis è eccezionale, i viticoltori apprezzano l'ingombro ridotto e un dispositivo che fa tutto, e il fatto che Smart Analysis possa praticamente eliminare la necessità di vetreria e apparecchi da laboratorio.")
Grazie a tutto il team di KauriWine: David Hunt, Mark McGill, Naomi Martin-Blanch, Dean Wishart, Diane Stratton e Andrew Hunt.